Hi Juniteens

Good News!🙂😀🙃 A new Juniteen Time can be on YouTube every Friday at 7.00 p.m. Meanwhile you can still see all the other ones on the Juniteens playlist here.
We really hope you'll join in👍🥳😄😎

Sadly Juniteens is still cancelled so far in 2021. Please pray that God will let our Youth Club start up again soon. Watch this space for any news.
We know what we come here for on Friday nights, don't we? It's where we have Youth Club. Anyone can come and be a member. But when it comes to going to heaven, only those who have believed and trusted in the Lord Jesus to take them there will be allowed to live there forever. Sadly everyone else will be turned away by God. What will happen to you – allowed in or turned away? The good news is that God wants all of us to go to heaven. That's why He punished Jesus on the cross for the wrong and bad things we've done, so that Jesus can take away all the nasty and horrible stuff inside us so that we can be God's friend and go to heaven. So will you ask Jesus to do this for you so that you can go to heaven and not get left outside?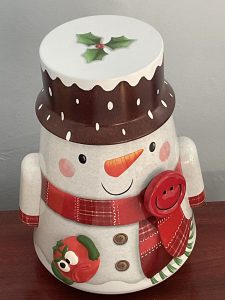 What do you think of my snowman? Of course he's not a real snowman is he? Can you say why he's not? Well, first of all he's made of metal and not snow. Secondly because he lives indoors, it would be too warm for him if he was made of snow and he would melt. 
Do you know that many people say they're a Christian, but only the Lord Jesus can make us one by taking away the bad stuff inside us, making us God's friend and taking us safely to heaven to live there forever. 
So are you just a pretend Christian just like my snowman is a pretend snowman,or has Jesus really made you one? 
Can you see the two magnets on the snowman? Which one do you think Jesus makes us feel like when He makes us a Christian, and which one will you be like if He has and God will welcome you into heaven one day?☃️
Thank you for visiting the JUNITEEN page on the website. We hope you enjoy it and have fun. But most of all we hope that it will help you to believe and trust in the Lord Jesus to make you God's friend and take you to heaven.